---
---
McDonald's 1st Annual Breast Cancer 5K Run/Walk
Barbara Bates Foundation, along with The Cancer Coalition for Life and Mujeres Latinas en Accion, are beneficiaries of McDonald's 1st Annual Breast Cancer 5K Run/Walk! Liz Thompson, Wife of McDonald's CEO Don Thompson, will lead this initiative that will benefit these three organizations!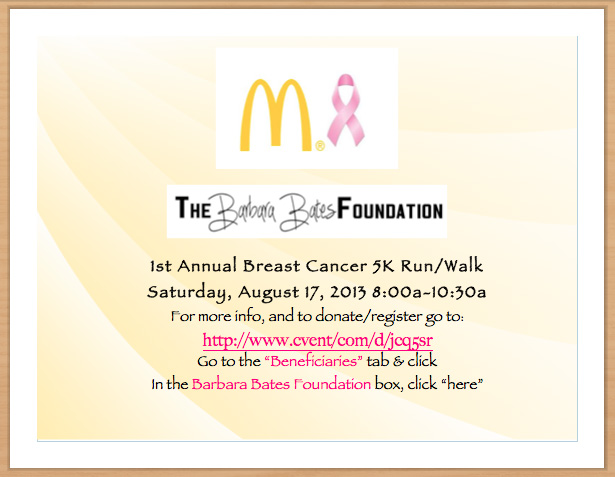 HOW YOU CAN HELP: The Walk will be held on the beautiful McDonald's campus beginning and ending at Hamburger University! The registration fee is $25/person ages 16 and up, and free for people under the age of 16. Those interested in participating, or making a donation, will need to visit the event website.  Once you read the information regarding the Foundation, it will give you the option to "click HERE" to donate under the Barbara Bates Foundation!
Please spread the good news to your family and friends, and know that we appreciate any and all donations/walkers/runners for McDonald's FIRST Annual Breast Cancer 5K!